Program on Benchmarking and Announcing Sustainable Companies in Vietnam in 2022 Kicked Off
Fri, 27 May 2022 15:45:00 | Print | Email Share:
The Program on Benchmarking and Announcing Sustainable Companies in Vietnam (CSI 2022 Program) was officially launched on May 26, marking the 7th consecutive year of its successful implementation, even in difficult conditions caused by the COVID-19 pandemic.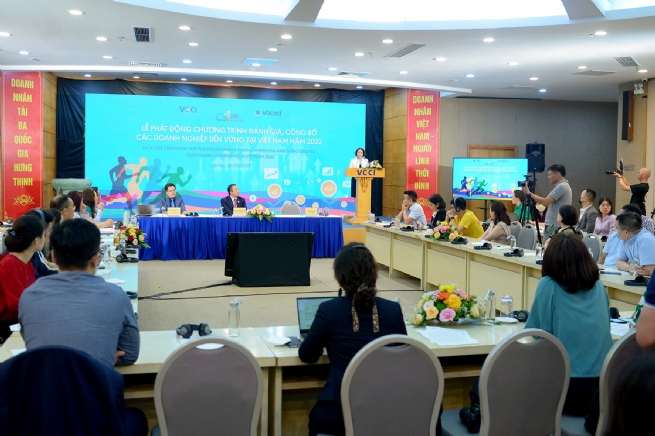 This year, the Vietnam Chamber of Commerce and Industry - VCCI (with the core being the Vietnam Business Council for Sustainable Development - VBCSD) continues to coordinate with the Ministry of Labor, Invalids and Social Affairs, the Ministry of Natural Resources and Environment and the Vietnam General Confederation of Labor to organize the CSI 2022 Program to benchmark, gather and praise businesses that well conduct responsible business and production activities in all three aspects: economy - society - environment.
The Kick-off Ceremony of the CSI 2022 Programme attracted around 200 offline and online participants from local and international organizations, diplomatic corps, business associations, media agencies and the business community.
In his opening remarks for the Kick-off Ceremony, Mr. Nguyen Quang Vinh – VCCI Vice Executive Chairman, VBCSD Chairman asserted: "After two years of persistent disease, our business community has more clearly "contemplated" the essential role, inevitable trend and positive impact of the sustainability-oriented production and business model. Sustainable development is not only a "lodestar" for businesses' growth in a stable condition, but also an "anchor" to stand firm and a "wheel" to adapt and recover when facing "tsunamis" of crisis. Aside from the compliance with legal policies and regulations of authorities, the pursuit and implementation of responsible business is now motivated by actual market demands. Along with the economic growth, higher income and people's intellectual level and global integration, Vietnam consumers have had higher awareness and responsibility in choosing green products and services produced by green production and business process. Therefore, the sustainable business helps businesses fulfill customers' demand, thereby bringing long-term benefits to businesses."
The CSI 2022 Kick-off Ceremony also welcomed Ms. Robyn Mudie – the Australian Ambassador to Vietnam. In her welcome speech, Ms. Mudie said: "The Australian Government is proud to be supporting the Australian Human Rights Commission and VCCI in the development of a new business and human rights indicator in the Corporate Sustainability Index. Businesses can play a key role in advancing and promoting human rights within their organizations and the wider community, which is essential to creating an effective, inclusive and stable business environment."
At the Ceremony, representing the Program Organizing Committee, Mr. Nguyen Tien Huy, Director of the Office for Sustainable Development Business introduced the Program and the 2022 Corporate Sustainability Index (CSI). This year, the CSI continues to be used as a basis for benchmarking the sustainability of enterprises participating in the Program.
With 130 indicators, the CSI 2022 Index is divided into 5 parts: Enterprise overview; Main results of the economic - environment - labor and social activities; Governance Indicators; Environmental Index; and Labor - Social Index. The basis for building the CSI 2022 Index is based on the revised Labor Law 2019 effective from January 1, 2021; Environmental Law 2014 and some provisions of the Environmental Law Amendment 2020 related to commitments to climate change adaptation and voluntary national commitments (NDC) COP21 and COP26. GRI and ESG Sustainability Reporting Standards; ISO 26000 social responsibility standard; and trade commitments in new-generation multilateral and bilateral trade agreements such as CPTPP, EVFTA, UKVFTA, RCEP, etc. Indicators related to anti-discrimination, diversity and inclusive development, implementation of gender equality, respect for human rights; inventory of greenhouse gas emissions of businesses (excluding the entire supply chain); transformation to the circular economy model; or related to solid waste management in industry are also boldly and clearly integrated in the CSI Index 2022. With 68% of indicators related to legal compliance requirements and 32% of indicators related to sustainable business initiatives, the CSI Index is considered a very scientific and practical tool to support the business community in sustainable corporate governance. The CSI can effectively support strategic planning and business planning, reviewing gaps in production and business activities, thereby helping businesses operate better and promptly seize new business opportunities.
In 2022, the Program will accept applications from businesses of all sizes and fields through online applications and will not collect any fees from businesses. This is also a difference compared to previous years, requiring businesses to submit documents online only helps create favorable conditions, increase transparency and objectivity for both businesses and the judging panel in the declaration and judging process. In addition to benchmarking and announcing 100 sustainable businesses, the CSI 2022 Program also builds award categories to honor businesses with good achievements in promoting the implementation of the circular economy model, responding to climate change; enhancing women empowerment and gender equality in the workplace; and responsible business for Human Rights and Children's Rights.
In the presentation on "Incorporating the responsible business and human rights into sustainable development in business", Ms. Nicole D'Souza, Senior Program Officer - International Engagement, Australian Human Rights Commission shared: "The Australian Human Rights Commission provided technical assistance to VCCI in the review of the Corporate Sustainability Index for 2022, concerning the inclusion of new indicators on business respect for human rights. The Commission notes the significance of the new human rights indicator, which is aligned with the UN Guiding Principles on Business and Human Rights (UNGPs) and will certainly encourage greater awareness and action by businesses to 'respect, protect and remedy' human rights, as called for by the UNGPs."
Also within the event framework, Ms. Dinh Thi Thu Hoai, Executive Director of Vietnam Business Coalition for Women's Empowerment (VBCWE) insisted: "In addition to the existing indicators of gender diversity policy in the leadership, the regulation of gender non-discrimination in the process of recruitment, selection, appointment and promotion, training program, mentoring of female leaders..., this year the Index has many new criteria related to the flexible working regime, equal income policy, child care support for employees. This is an important step that demonstrates the efforts of both VBCSD and VBCWE in supporting Vietnamese businesses to get closer to global labor standards, thereby attracting and retaining talents and developing sustainably."
The CSI 2022 Kick-off Ceremony will also be held directly in Ho Chi Minh City on May 30, 2022. Following the Kick-off Ceremony, the Program Organizing Committee will organize face-to-face/online training courses on corporate governance in general and applying the CSI Index in corporate governance in particular from June to August 2022. The deadline for the Program application is August 31, 2022. More information can be found at http://vbcsd.vn/csi.asp.
By: Huong Ly (Vietnam Business Forum)
Source: https://vccinews.com/news/47822/program-on-benchmarking-and-announcing-sustainable-companies-in-vietnam-in-2022-kicked-off.html
---------------------------------------------
Same category News :