Business Beat: State needs mechanism to promote renewable energy development
Tue, 12 Sep 2023 22:30:00 | Print | Email Share:
Việt Nam should have a mechanism to enhance foreign investment capital (FDI) to the renewable energy industry, experts said.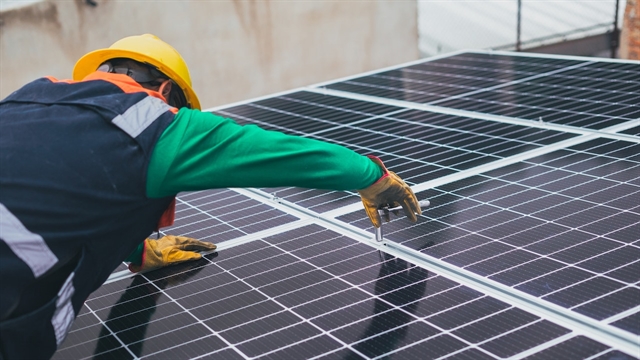 Việt Nam has great potential for renewable energy sources such as hydropower, wind power, solar power, and biomass power. — Photo chinhphu.vn
HÀ NỘI — Việt Nam should have a mechanism to increase foreign investment capital (FDI) into the renewable energy industry, experts said.
Việt Nam has great potential for renewable energy sources such as hydropower, wind power, solar power and biomass power.
With favourable natural conditions amid the global trend of greenifying the production process, the south of Việt Nam, including HCM City, has many advantages in renewable energy development, experts said.
However, Việt Nam and HCM City have not yet broken through with development for renewable energy. They need to make policies and amend laws to attract new investors to the renewable energy sector, according to the experts.
Nguyễn Anh Sơn, director of the Legal Department, Ministry of Industry and Trade, said in recent years, the State has issued policies to attract investors to develop renewable energy sources.
Specifically, in 2020, the Politburo issued Resolution No. 55-NQ/TW on the orientation of Việt Nam's national energy development strategy to 2030, with a vision to 2045.
The Government promulgated Resolution No 140/NQ-CP on its action plan, which assigns the Ministry of Industry and Trade to coordinate with other ministries and relevant agencies to study and develop the Law on Renewable Energy.
These documents, along with many other relevant legal documents, are a good foundation for the expansion and completion of the legal framework related to the energy sector in general and renewable energy.
With the rapid development of renewable energy, according to Sơn, the legal framework governing these projects should be completed quickly to facilitate enterprises in the deployment of projects and also limit their risks and losses incurred.
For HCM City, Sơn also suggested the city's leaders to review the progress and problems when implementing renewable energy projects, thereby contributing to complete the policy framework on national renewable energy development.
The completion of laws related to the energy industry will also contribute to effective control of the electricity trading market as well as power from renewable energy projects, contributing to sustainable socio-economic development.
Việt Nam is recognised for its potential in renewable energy development, especially the production of solar photovoltaic (PV) batteries and electric two-wheelers, according to research conducted by the Asian Development Bank, Bloomberg Philanthropies, ClimateWorks Foundation and Sustainable Energy for All.
Strengthening the region's renewable energy production capacity will help Southeast Asian countries, including Việt Nam, to create new jobs and meet the needs of energy growth while significantly reducing greenhouse gas emissions.
In Southeast Asia, low-carbon mobility and clean power have the potential to contribute $90 billion to $100 billion in revenue by 2030, while 6 million renewable energy jobs are expected to be created by 2050.
The Renewable Energy Production: New Opportunities for Southeast Asia Report pointed out that Việt Nam has a labour cost advantage in the solar PV manufacturing industry.
According to a leading Cambodian manufacturer, wages in Cambodia are comparable to Việt Nam, but due to educational differences, more workers are required to produce the same output, leading to higher labor costs.
Việt Nam's land border with China is perceived as a significant benefit as delivery time for input materials can be reduced from weeks to days.
For electric two-wheeler (E2W) manufacturing, Thailand and Việt Nam appear well-positioned to be exporters of E2Ws due to extensive free trade agreement coverage with key demand markets.
Rapidly growing demand for electric vehicles is also driving demand in the battery sector in countries such as Việt Nam, Thailand, and Indonesia.
Manufacturers in Việt Nam perform relatively better in the low-end product segment, mainly due to the use of cheaper parts and outdated technology (e.g., lead acid batteries). However, manufacturers in Việt Nam targeting the middle and premium segments price their products at or below cost.
Indonesia, Thailand, and Việt Nam each have well developed industrial and supplier parks that help to keep logistics and transportation costs low.
Đào Xuân Đức, chairman of HCM City Industrial Zones Businesses Association (HBA), said that now, many foreign investors are interested in renewable energy development when investing in industrial zones in HCM City.
Businesses save at least 30 per cent of electricity costs each month when they install solar power panels in factories. However, Việt Nam only allows solar power in homes and offices.
One of the criteria of many foreign investors coming in industrial parks based HCM City is to have green development with a focus on clean and renewable energy.
Many large corporations target to not use electricity from EVN from 2030, instead using renewable energy. That is a global commitment, Đức told nhadautu.vn.
Meanwhile, an FDI enterprise investing in the renewable energy industry said that its biggest challenges are to have to apply for a lot of permits and that there is no mechanism connecting it to the national power grid.
Sơn said there is no specific legal framework on the issue of connecting to the power grid.
Nguyễn Văn Yên, head of the Office of the Vietnam Energy Association, agreed that there is no clear legal framework for solar power investment in industrial zones, mainly related to electricity purchasing prices.
The preferential purchasing price of solar power is about 9.35 cents/kWh (about VNĐ2,000). Many enterprises produce solar power to sell to EVN, while EVN's commercial price of solar power is only 7.2 cents/kWh. This causes damage to the State, Yên said.
The State needs to have more open and adequate guidelines and policies to create a stable investment environment for renewable energy projects, he said. It also is necessary to have more appropriate solutions and mechanisms for developing renewable energy projects.
By: Business Forum Magazine
Source: https://en.diendandoanhnghiep.vn/business-beat-state-needs-mechanism-to-promote-renewable-energy-development-n38182.html
---------------------------------------------
Same category News :