Sustainable development future of ASEAN
Sat, 28 Oct 2023 22:51:00 | Print | Email Share:
Over the next 10 years, the region would need around $1.5 trillion to work towards the green goals.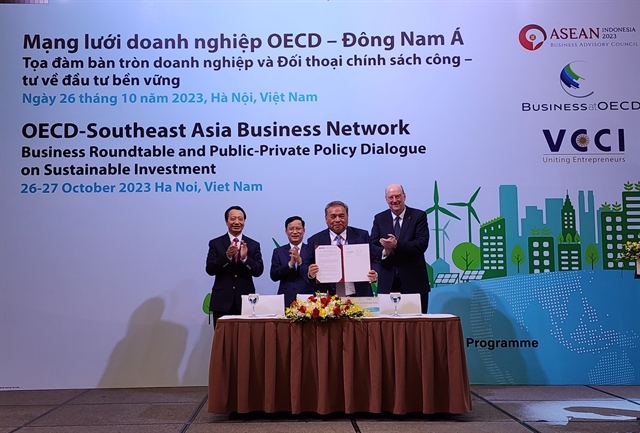 Officials sign a memorandum of understanding at the dialogue. — VNS Photo Lê Việt Dũng
HÀ NỘI — Sustainable investment is no longer just a common term but has become something that the ASEAN Business Advisory Council puts at its vital core in developing and moving ahead.
That remark was made by Bernardino Vega, Co-Chair of the OECD-SEA Business Network, at the Business Roundtable and Public-Private Policy Dialogue yesterday.
He said the importance of sustainable development and investment is crucial in ASEAN. It lies in the potential to foster economic growth while simultaneously safeguarding the environment, promoting social inclusivity, and adhering to robust governance.
"Sustainable development encompasses a diverse array of opportunities, which include renewable energy, green infrastructure, and responsible agriculture," said the Co-Chair.
He also said sustainable investment would not only steer ASEAN towards a more balanced and resilient economy but also contribute significantly to attaining the UN goals on sustainable development.
Andrea Campagnoli, Founding Partner of Bain Vietnam, said there is a marked increase in efforts and actions from a number of parties in Southeast Asia (SEA) when it comes to energy transition.
Eight out of ten SEA countries have net zero or carbon neutrality commitments, and seven out of ten are now considering or have carbon pricing/taxes. In light of the Paris Accord, corporates have increased four times their science-based target commitments and objectives.
"US$5.2 billion were put to work towards green investments in the region in 2022," said the founding partner.
However, the figure is still a far cry from what is needed to meet the 2030 targets. Over the next 10 years, the region would need around $1.5 trillion to work towards the green goals.
"The bright spot of this is Việt Nam, which definitely punched above its weight in terms of investments, given the size of its economy," added Andrea.
He said what is holding back capital providers includes uncertainty in regulatory environments and constraints in market access, which result in returns that are not economical for the capital earmarked for energy transition.
Stephen Thomsen, Deputy Head of OECD's Investment Division, said foreign investment can contribute to sustainable outcomes in ASEAN. However, there are still a lot of obstacles in terms of discrimination that foreigners face in the region.
Regarding the FDI regulatory restrictiveness index, the ASEAN average is still much higher than the OECD and some other non-ASEAN countries, indicating that several ASEAN member states are still quite restrictive in terms of FDI.
"The restrictions tend to be in the services sector. The more restrictive the services sector, the more labour productivity is affected across the economy," said the head.
Madeleine Chenette, Permanent Representative of Canada to the OECD, said Canada had launched the Sustainable Finance Action Council to help lead the Canadian financial sector towards integrating sustainable finance into industry practices.
The council, made up of both public and private organisations, serves as a centre of expertise, partnership, and dialogue on sustainable finance issues in Canada and investments internationally.
"Canada works with several private financial institutions to develop frameworks and practices to prioritise sustainable and inclusive investment," said the ambassador.
The country also has a robust model for public-private partnerships, especially in infrastructure projects, which often include sustainable criteria. It has been a leader in testing and expanding the scope of blended finance and international sustainable development, piloting innovative approaches that facilitate unconventional partnerships.
A memorandum of understanding was signed at the dialogue.
By: Business Forum Magazine
Source: https://en.diendandoanhnghiep.vn/sustainable-development-future-of-asean-n38561.html
---------------------------------------------
Same category News :