Market extends losses on bank stocks
Wed, 15 Mar 2023 22:21:00 | Print | Email Share:
The VN-Index on the Hồ Chí Minh Stock Exchange (HoSE) ended the day at 1,052.8 points, a slight decline of 0.2 points or 0.02 per cent.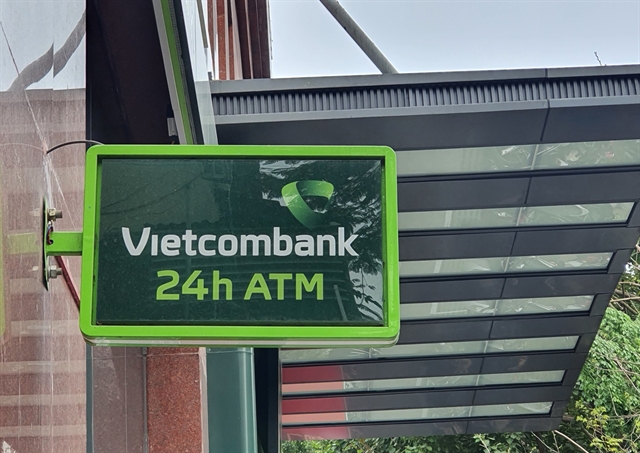 Vietcombank on Trần Hưng Đạo Street, Hà Nội. The bank's shares dipped by 0.65 per cent, contributing to the market's downtrend. VNS Photo Ly Ly Cao
HÀ NỘI — Benchmark indices settled down on Monday as losses in the banking sector overshadowed gains in real estate stocks.
The VN-Index on the Hồ Chí Minh Stock Exchange (HoSE) ended the day at 1,052.8 points, a slight decline of 0.2 points or 0.02 per cent.
The market's breadth was negative as there were more stocks inclining to the downtrend on the southern exchange.
However, liquidity improved with a trading value on HoSE up 28.3 per cent over the previous session to VNĐ11.17 trillion (US$474 million), equal to a trading volume of over 622.4 million shares.
The index's losses were capped by rallies in large-cap stocks, mostly in the realty industry. The VN30-Index, which tracks 30 biggest stocks in market capitalisation on HoSE, climbed 2.87 points, or 0.27 per cent, to 1,050.07 points.
In the VN30 basket, 14 stocks inched higher, while 15 slid and one was flat.
Affected by fears of the collapse of the US banking system, many big Vietnamese banks witnessed poor performance.
Specifically, BIDV (BID) was the biggest loser on the first trading day of the week, down 1.91 per cent. It was followed by Vietcombank (VCB), Sacombank (STB), Techcombank (TCB), Asia Commercial Joint Stock Bank (ACB), and MBBank (MBB). These banks lost in a range of 0.65-3.85 per cent.
The Silicon Valley Bank (SVB) meltdown last week rippled through the US markets, causing investors to flock to safe-haven assets.
On the contrary, VP Bank (VPB) posted a great performance with a gain of more than 6 per cent after news of its stake sale for a Japanese megabank.
VP Bank is expected to reach a deal to sell a 15 per cent stake to Japan's Sumitomo Mitsui Financial Group Inc. for about $1.4 billion, Bloomberg reported citing sources familiar with the transaction.
Other big names contributing to the market's bearish trend were Vietnam Airlines (HVN), Hoà Phát Group (HPG), and FPT Corporation (FTP).
The bullish trend of realty stocks also helped cushioned some of the losses. Particularly, Vinhomes (VHM) was the leader of the uptrend, up 4.43 per cent. Other two of the Vin-family stocks: Vingroup (VIC) and Vincom Retail (VRE) also added 0.38 per cent and 3.93 per cent, respectively.
The HNX-Index on the Hà Nội Stock Exchange (HNX) extended losses for the second day in a row on Monday. It closed the session at 205.85 points, down 2.01 points or 0.97 per cent.
During the session, more than 54.57 million shares were traded on the exchange, worth VNĐ814.53 billion.
Meanwhile, foreign investors injected capital into the market, with a total net value of VNĐ862.77 billion on the two main exchanges.
Of which, they net bought VNĐ841.47 billion on HoSE and VNĐ21.3 billion on HNX.
By: Business Forum Magazine
Source: https://en.diendandoanhnghiep.vn/market-extends-losses-on-bank-stocks-n36714.html
---------------------------------------------
Same category News :