Hanoi Sales Promotion 2023 begins
Fri, 19 May 2023 23:14:00 | Print | Email Share:
Hanoi's Department of Industry and Trade on May 18 kicked off 'Hanoi Sales Promotion 2023' at Thong Nhat Park and introduced activities within the programme from May to November.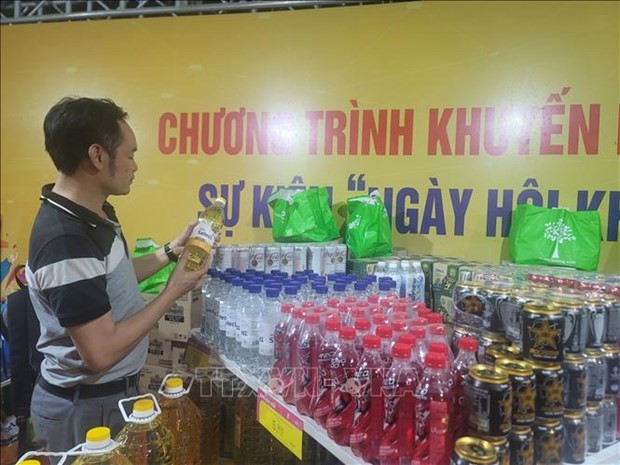 A shopper at the Hanoi Sales Promotion event. (Photo:VNA)
Speaking at the event, Acting Director of the department Tran Thi Phuong Lan said that the city's promotion programme, mostly taking place in May, July and November, will offer discounts of up to 100%, attracting 1,000-2,000 enterprises.
The programme aims to create favourable conditions for businesses to organise activities to stimulate demand, sell products, reduce inventories, and serve the shopping needs of the people of the capital, thus overcoming difficulties, promoting production, and boosting the city's economic growth, especially in trade and services.
This month will see two major events – "Consumer Goods and Agricultural Products Promotion Day" from May 19-21 at Thong Nhat Park and "Fashion and Beauty Promotion Day" from May 26-28 in stores, shopping malls or public places in the city.
July will see "Electric & Technology Promotion Day" from July 28-30 in supermarkets, shopping malls, or suitable places.
"Hanoi Midnight Sale 2023" will take place from November 24-25 across the city with the participation of about 200 businesses, trade centres, supermarkets, production, and business establishments.
Within the framework of the promotion programme, many activities and events to stimulate demand and promote trade will also be considered.
By: VNA/ The World & Vietnam
Source: https://en.baoquocte.vn/hanoi-sales-promotion-2023-begins-227661.html
---------------------------------------------
Same category News :